Jeannie Elliott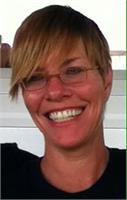 "Let food be thy medicine and medicine be thy food." -Hippocrates
Food is my medicine. There was a definite point in my life when I noticed that I was no longer indestructible. I could no longer put toxic foods and drinks in my body and expect to live a long fulfilling life. I was at a turning point and needed to do something different. I had to be free from old things that were governing my life. Health and nutrition is very important to me now. I had to put down the things that were bad for me and start making new choices. Choices, like juicing, that have made me feel a thousand times better. I still have lots to learn and as long as I'm teachable and willing to strive to make the right choices then I am growing. Today, I am living a life that I would have never imagined for myself. It's a life that helps others and because of that I have found happiness for myself.
Jeannie Elliott instructs the following:
A little bit ballet, a little bit boot-camp, a little bit Pilates -- and a whole lot of results. This class will burn, lengthen and sculpt every inch. Barre is a 60-minute class that combines isometric strength training, stretching and balance, using a traditional ballet barre. The result is a longer, leaner and more confident you!