By Molly, Owner, Certified Personal Trainer, and Certified Health Coach
Today we are beginning our series on what the plates of Livewell team members look for one day of our lives. We all get questions about what we eat, suggestions for recipes, and the stories behind our own health journeys. So, we are all going to share a peek at our lives and how our journeys began.
I am Molly, co-owner of Livewell, Flex 151, and Upgrade Cafe. Shaun is my husband and we have two children, a six-year-old son and a four-year-old daughter.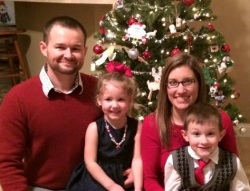 I remember as early as first grade having digestive problems. Things got worse in my early twenties while I was in Culinary Arts school to the point that I was diagonosed with Irritable Bowel Syndrome (IBS) and prescribed a drug that has now been taken off the market. I didn't stay on it long because it didn't really seem to help much, and I thought I would just have to learn to live with the uncomfortable symptoms of gas and bloating.
One day, after reading a book and a lot of researching, Shaun said he didn't want to eat bread, rice, or pasta anymore. I thought he was crazy! I did the majority of the cooking for our family and almost every meal included some form of whole grain like brown rice or whole wheat spaghetti. I don't remember how he exactly convinced me, but I gave this new lifestyle a try. I was shocked that I no longer felt so bloated after dinner, and I didn't have to count calories or feel hungry all the time to lose the weight I had gained during two pregnancies.
Shaun and I generally strive to eat healthy fats, lots of veggies (organic when possible), low sugar, and meat from non-CAFO (Concentrated Animal Feeding Operation) sources 80% of the time with a 20% allowance to slip up or "splurge" every now and then. But, my 20% expanded a bit over the holidays, and I could tell in the way my clothes fit and the way I felt during the day, so I decided to try the 21 Day Sugar Detox to get myself back on track.
The day I chose to share with you all was Day 12 of my 21 day detox. The 21 Day Sugar Detox is a whole-foods-based nutrition program designed to break you free from the chains of sugar and carb addictions. Since I was familiar with a gluten-free and grain-free lifestyle, Shaun and I chose to do Level 3 of the program, which meant that we would also be removing dairy from our diets for the twenty-one day duration.
I begin most of my days rushing around to get the kids ready and to school on time, so I try to stop and drink one big glass of water with minerals to get my day started off hydrated. I usually don't eat breakfast until 8:15 am and today I was able to make mine in around 5 minutes.
It included two scrambled eggs from a local source, smoked Alaskan salmon with capers, and a combo of cherry tomatoes and avocado with olive oil drizzled over the top. I like to get a lot of healthy fats in my diet especially in the morning to sustain me to lunch. The smoked salmon was a treat because it is hard to find around here. I made a trip to Louisville earlier in the week and found it at Whole Foods.
This was a Friday, which is usually when I have 'Friday Funday' with my daughter. Friday Funday is our day to eat lunch out with my parents, and today they chose Chick-fil-a. I knew it would be difficult to find something there that would keep me compliant with my detox, and I had leftovers from the day before, so it took me five minutes to pack my lunch and bring it along with me.
This was a tuna salad with green apples and olives that I wrapped in collard greens instead of a wrap made from grains. I'll admit, it felt a little weird to pack my lunch to go to a fast food place, but the way I felt that afternoon proved to me that it was worth it. I didn't have the usual uncomfortable bloat and hunger a few hours later.
I do like some crunch, so my late afternoon snack after picking our son up from school was some seaweed and half of a kombucha, which didn't require any prep from me.
I know you are thinking, "Seaweed??!!??" Yes, seaweed is a great snack because it is rich in minerals such as iodine, calcium, sodium, magnesium, potassium, iron, zinc, copper and selenium. The typical American diet along with a stressful lifestyle leaves most of us deficient in important minerals. And, the kombucha provides me with important probiotics, which are live bacteria that are good for your digestive and immune system.
Shaun was going to get home around 6PM that evening, so I started on dinner around 5:30PM.
I baked some pork chops, and while they were in the oven, I sauteed spinach with garlic and brussel sprouts with coconut oil. I saved time with the brussel sprouts by buying ones that were already chopped up for me...I'm always looking for a way to shave a few minutes off of my prep time!
After dinner, it was time to put the kids to bed, and since it was Friday night, I wanted a treat. I looked up the not-so-sweet treats in the 21 Day Sugar Detox guide book, and whipped these truffles up since I had all of the ingredients on hand. I also had a Perrier, or carbonated water. Perrier is something I drink almost every evening. I enjoy the carbonation without all the sugar of soft drinks, and I can make it more flavorful with a squeeze of lemon or lime.
Shaun and I continued the 21 Day Sugar Detox successfully, and we can't wait to share more information about it with you. We are currently working on a formal program for our clients where we will help guide and support you along the way. I learned a lot along my 21 days, and I want to share my time-saving tips with you. Stay tuned in the coming months for more details!