Benefits

Helps your body to produce the right amount of Vitamin D

Enhances circulation throughout the body

Improves mood

Helps relieve temporary muscle and joint pain, muscle spasms, and stiffness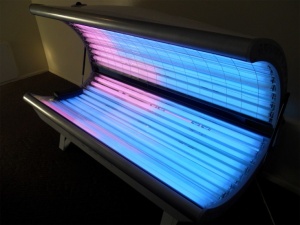 Always wear eye protection when using a tanning bed!
The Vitality bed is the only tanning bed in the area that is approved by the Vitamin D Council to be safe and health-promoting. The Vitality bed provides anti-aging red light and infrared light to increase circulation and boost metabolism. It is certified safe because it produces primarily UVB rays, which have been clinically proven essential for vitamin D production. UVB rays not only help to prevent one from burning, but aid in producing a healthy, vibrant glow.



*Thank you for your interest in the Livewell Sunbed!
The link below contains a digital intake form and Tanning Bed Legal UV Precaution Release
for you to fill out and "sign." After completing and signing up for your first appointment and
account access, use that information to fill out this form prior to your first session.
Note, this is a different form required by law in addition to the Release and PAR-Q form
you will receive in your inbox after creating your account.
Please let us know if you need any help booking an appointment!
https://www.waiverking.com/print/1200